About Us
At Catskill Mountain Maple, we produce 100 % Pure Maple Syrup and Honey. In addition to syrup, we also have a large selection of Pure Maple Products, including maple sugar and maple cream, produced from our own trees in our new sap house. We happily accept custom orders for any occasion, and we also design gift baskets. Just give us a call (607) 746-6215 or email catskillmountainmaple@gmail.com. Or visit our sap house and store in DeLancey, NY, on the western slopes of the Catskill Mountains of Upstate New York.
Catskill Mountain Maple is also a full service CDL maple equipment dealer as well as the creators of Zap-Bac antimicrobial maple sap spouts, the most technologically advanced spout in the industry. With our 30-plus years in the maple equipment business and 50 years in the maple syrup business, let us put our expertise to work for you!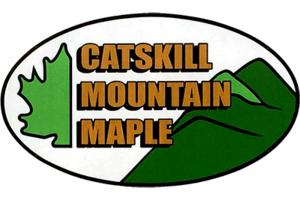 We Believe in Quality
100%
Pure Maple
Products
After 50 years of producing maple syrup and 30-plus years as maple equipment dealers, the Kaufmans know the maple business!
Tom Kaufman grew up just outside of Delhi, NY, and has been making maple syrup since he was 12 years old. A graduate of Delaware Academy and SUNY Delhi, he earned a BS in business administration and marketing from Husson College (now University). In addition to farming, Tom has been the Golf Course Superintendent at the College Golf Course at Delhi for over 30 years.
Jo Ann (Cole) Kaufman grew up on Hillside Farm in Andes, a dairy farm purchased in 1900 by her great-grandparents and where four generations lived until recently. A graduate of Andes Central School, Jo Ann earned two associate degrees from SUNY Delhi (secretarial science and liberal arts), where she was also employed for 30 until her retirement in 2010.
Continuing a Family Tradition
In 1974, Tom and Jo Ann were married, and in 1980 they purchased their farm in DeLancey, NY. Tom built the original sap house in 1985 (the same year their son Terry was born), incorporating into the new structure an arch from Jo Ann's great-grandfather's family farm sap house that had fallen into disrepair. Since then, Tom has made many additions and improvements, but he still keeps Jo Ann's great-grandfather's candy thermometer on display.
The Kaufman Family Farm
Catskill Mountain Maple's sap house and showroom is located on the Kaufman's 140 acre working farm. They raise Herefords, sweet corn, eggs, honey, and of course 100% Pure Maple Syrup. Visitors are always welcome. Feel free to drop by (or call ahead), especially during sugaring time in March, when they offer pancake breakfasts, tours, & demonstrations.
Visit Us
We are located at
65 Charlie Wood Road
County Route 2, between DeLancey and Andes, NY.
Store Hours
Drop by or call ahead:
(607) 746-6215